Dana Text Editor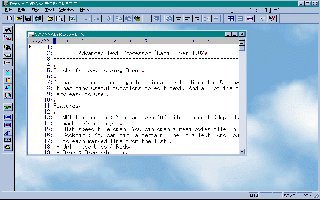 Dana is a simple but powerful text editor for Windows95/98/Me/NT4.0/2000/XP.
It is designed to offer all the features that you want and expect in a text editor with simplicity and ease of use. Plus, you can take Dana above and beyond text editing through extensive customization and with full macro scripting capabilities.
Its highly functional editing feature is inherited to the popular e-mail client "Becky!".
Features
MDI text editor: You can open 100 files to edit.(depends on your machine's memory.)
High-speed file open: You can open a mega bytes file in a moment!
Bookmark: You can mark a certain line in text. And you can jump to each marked line from the list.
Unlimited Undo & Redo
Drag & Drop editting
Text formatting functions: Right, Left, Centered, Sort (also supports sorting in a box selection), etc.
Proportional fonts are supported
Colored HTML tags
Clipboard history: You can select data in the list that stores data copied or cut before.
File Maintainer: A file open dialog that has basic file maintenance functions like Delete, Copy, Rename and so on.
Print & Preview
Colored keywords: You can see user-defined keywords in different colors. And you can define each keywords group for specified file types.
High-grade find function: Many options including regular expression are supported. A function like GREP is also available.
Flexible key assignment: You can define shortcut keys that include two stroke keys for every function.
Docking/Floating Toolbar: MS-Office like.
Dana Script: Programmable macro language similar to BASIC. Easy and flexible.
Long file name and UNC path name are fully supported.
Safety: Max 99 generations backup, Auto backup, Mirrorring.
Many other useful functions!!
30 days trial FREE!
You can try fully featured Dana up to 30 days. After the trial period and you still want to use it, you will have to purchase the license. The price is 30US$ and any further update is free of charge.
If you have already purchsed the license and want to update the program, please download the latest version from the following link and install it.
Download
Dana version 1.16.01